Chore Hi from Muck Boots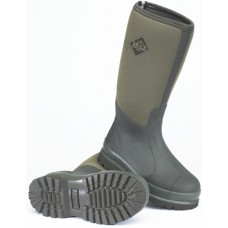 Product Code: 8-20010
Availability: In Stock
The best NEOPRENE Wellington Boot in the WORLD - probably
Neoprene is well known and used in maritime survival suits, wet suits and other aquatic clothing. Muck boots do not just use neoprene as a lining inside rubber boots, but make a one piece boot from a minimum 5mm thick top grade Neopene that is then rubber coated.
Neoprene is rubber filled with bubbles ( A RUBBER VERSION OF SPARKLING WATER ) this process keeps the fabric lightweight, buoyant, provides very high insulation for warmth - whilst keeping it 100% waterproof.
The boot is lined with an Airmesh Lining, a state of the art fabric used to allow air to circulate wicking away excess moisture or heat, creating a comfortable environment for your feet.
Vibram Outsole with deep cut, hi grip tread, oil resistant sole, re-inforced toe, instep & heel. Steel shank for additional Arch support
The leg of the wellington, can be comfortably worn rolled down when used in warmer weather.
Supplied in Moss green - sizes 4 - 12.

Write a review
Your Name:
Your Review:
Note: HTML is not translated!
Rating:
Bad
Good
Enter the code in the box below: